Matsumoto Yamaga F.C.
Club Profile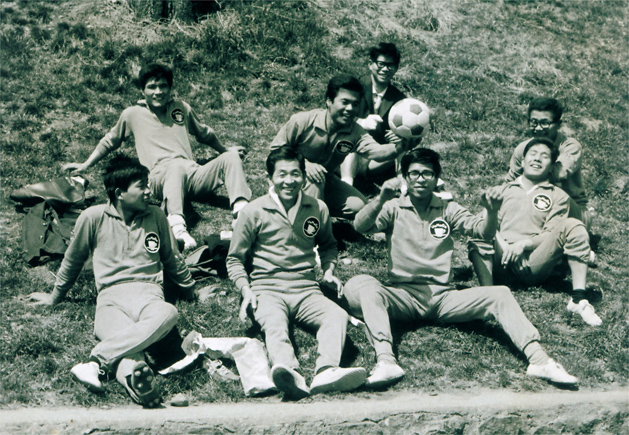 Matsumoto Yamaga Football Club are J-League club based in Matsumoto, Nagano prefecture.
Founded 1965 as Yamaga SC. In 2004 renamed as Matsumoto Yamaga FC.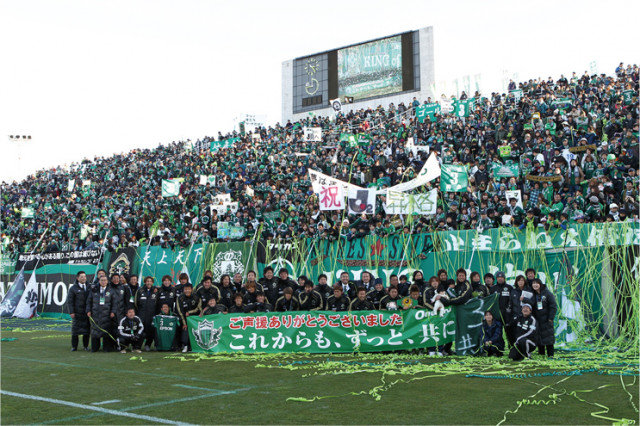 In 2011, Yamaga earned 4th place in Japan Football League and were promoted to J.-League Division 2.
In 2014, Yamaga earned 2th place in J-League Div.2 and were promoted to J-League Div. 1.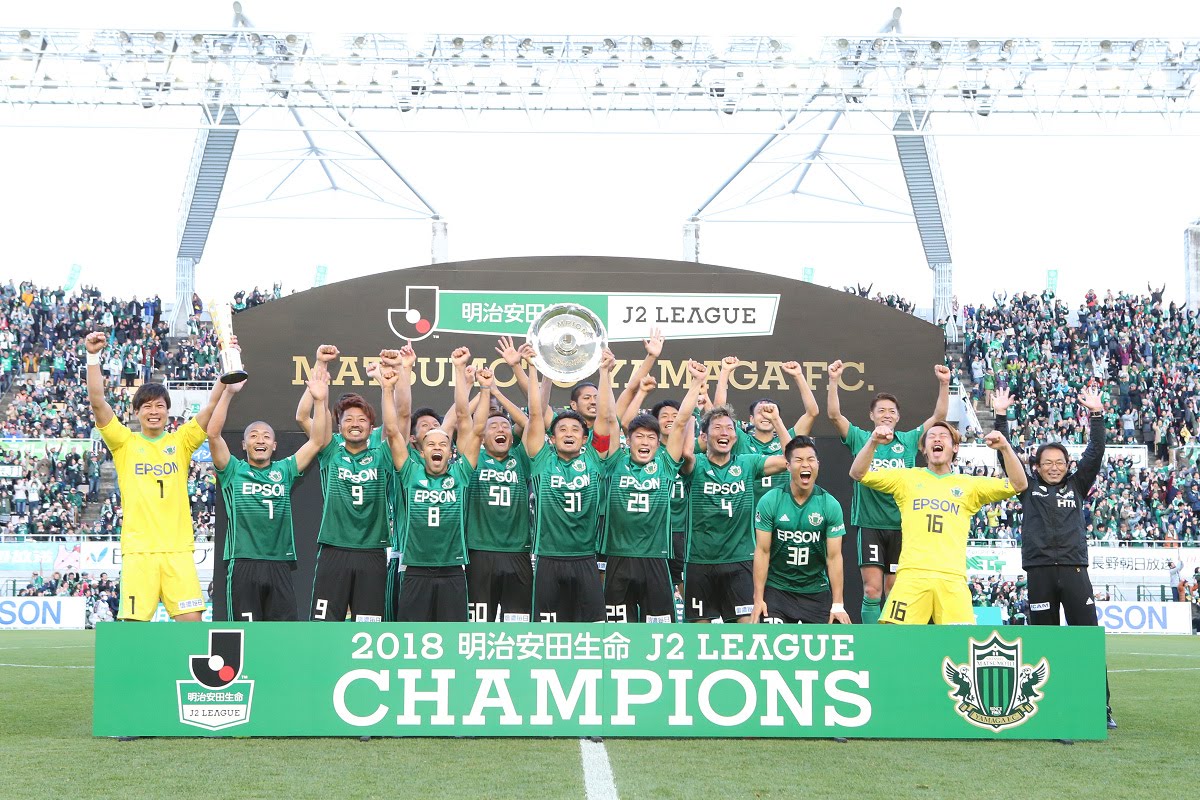 In 2018, Yamaga earned Champions in J-League Div.2 and were promoted again to J-League Div. 1.
Club Overview
Club Name
MATSUMOTO YAMAGA F.C.
Company name
MATSUMOTO YAMAGA CO., LTD.
President/CEO
FUMIYUKI KANDA
Address
1-10-20 Namiyanagi, Matsumoto City, Nagano Prefecture.
ZIP: 390-0825
TEL
0263-88-5490
FAX
0263-88-5491
Business description
Manage Professional Soccer Club
Organize soccer, and the other sports competitions
Plan, manage, or support the other sports events
Affiliated organization
Non-profit Organization Matsumoto Yamaga Sports Club (Youth academy project)
Home Stadium
Nagano Prefecture Matsumoto Plain Wide-area Regional Park Multipurpose Stadium
[SUNPRO ALWIN] Capacity: 20,336-
5300 Kanbayashi, Matsumoto City, Nagano Prefecture.
Zip: 390-1243
Hopes and Visions of the Future
Mission
• Contribute to community development through sports. Enrich people's lives and be required by our people.
• Provide dream, hope and inspiration through sports. Continue contributing to the development of our people, community and future, to bring energy and courage.
• Contribute to the development of sports culture. Continue being a team that is loved and supported by everyone, while pursuing to win.
Vision
• Progressively challenge and be a team which our people can be proud of, as a club representing Shinshu*.
• Actively participate in the development of Shinshu city to provide a healthier and safer environment.
• Maintain a sound management system that is continuously trusted by local society/
• Create Alvin stadium safe and comfortable, which provides time worthwhile.
• Play in an earnest and sincere manner. Promote safety and display sportsmanship at all games.
• Develop talented players and coaches.
• Create an environment where people can enjoy sports, regardless of age/
*Shinshu: traditional name for Nagano prefecture.
Emblem, Logo, Flag
■Emblem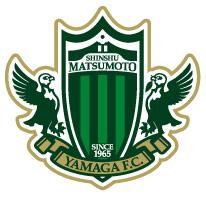 Three edges at the top of the shield represents the Northern Alps, with Mount Jonen in the middle. The upper half of the emblem, including the Northern Alps, represents the Matsumoto Castle. Both symbolic for Matsumoto.
Snow grouse, or a ptarmigan, is designed on both side. The right snow grouse is carrying a leaf of laurel in its mouth. Laurel represents luck and victory which were used in the former emblem.
Three green lines on the shield represents the mountain ranges in Shinshu; Hida, Kiso and Akaishi. 4 different shades represent the 4 plains, which is included in a typical song for Shinsu.
This emblem basically symbolizes Shinsu, in hope of being a team loved and supported not only from its people in Matsumoto city, but from the people in Nagano prefecture.
■Logo

■Flag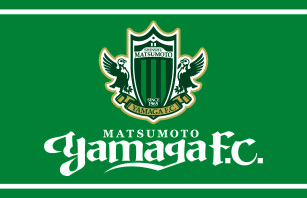 ■Official Mascot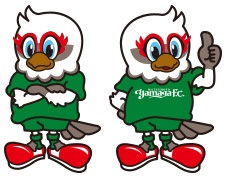 Name: GANS KUN
gender: Male
【Profile】
A "ptarmigan", prefectural bird of Nagano prefecture, who is passionate about Matsumoto Yamaga FC.
Not only he encourages fans and supporters with his positive spirit and mind, he comforts everyone with his kindness and cuteness.
Home Town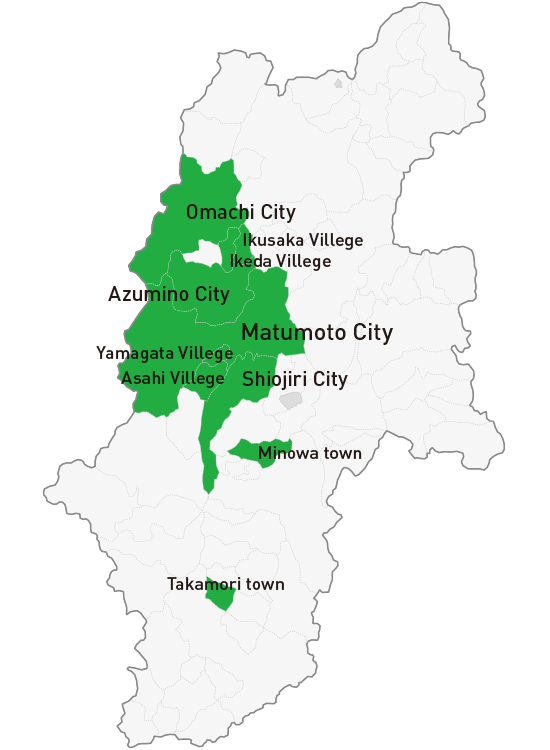 Results
1985
The 11th Hokushinetsu Football League: Champion
1997
The 2nd Nagano Football Championship: Champion
2005
Hokushinetsu Football League Div.2: Champion
2006
The 11th Nagano Football Championship: Champion
Hokushinetsu Football League Div.1: 2nd place
2007
Hokushinetsu Football League Div.1: Champion
2008
The 13rd Nagano Football Championship: Champion
Hokushinetsu Football League Div.1: 4th
2009
Hokushinetsu Football League Div.1: 4th
The 45th Japan Football Federation For Members of Society Championship: Champion
The 33th Japan Regional Football Champions League: Champion
The 14th Nagano Football Championship: Champion
The 89th Emperor's Cup
2010
The 12th Japan Football League: 7th
The 90th Emperor's Cup: 2nd round
2011
The 13rd Japan Football League: 4th
The 91th Emperor's Cup: 4th round
2012
J.League Div.2 2012: 12th
The 92nd Emperor's Cup: 2nd round
2013
J.League Div.2 2013: 7th
The 93rd Emperor's Cup: 3rd round
2014
J.League Div.2 2014: 2nd
The 94th Emperor's Cup: 3rd round
2015
MEIJI YASUDA J1 League 2015: 16th
The 95th Emperor's Cup: Round 16
2016
MEIJI YASUDA J2 League 2016: 3rd
The 96th Emperor's Cup: 2nd round
2017
MEIJI YASUDA J2 League 2017: 8th
The 97th Emperor's Cup: Round 16
2018
MEIJI YASUDA J2 League 2018: Champion
The 98th Emperor's Cup: 3rd round
FACILITY
①Home stadium, SUNPRO ALWIN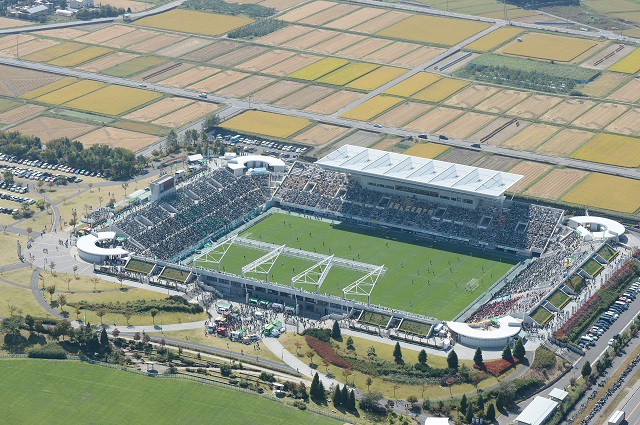 Naganoken Matsumotodaira Wide Area Park General Stadium
Capacity of 20,336 spectators
②Karigane Soccer Field completed in 2015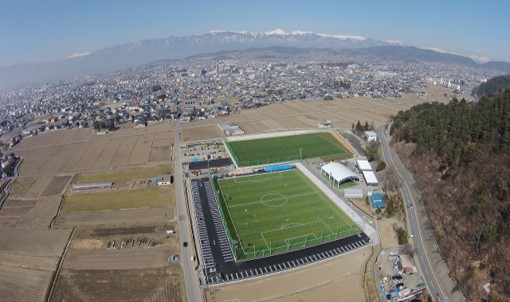 【Natural grass】1 soccer field:10,454m2
【Artificial turf】2 youth soccer field:8,670m2
【Multi-purpose field】580m(2 roofs)
【Other facilities】
Meeting room with a refrigerator
Locker rooms with showers
③Club House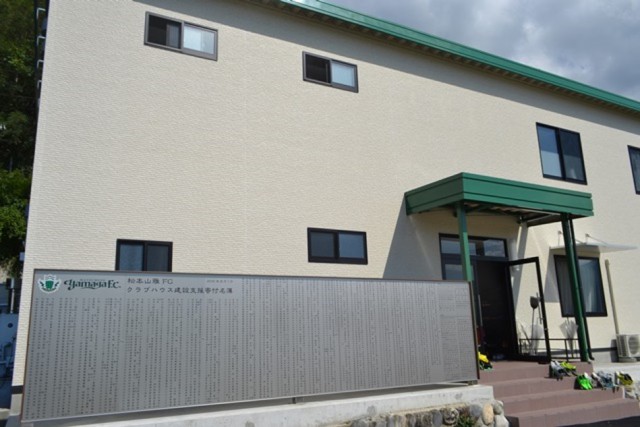 Completed in July 21, 2015. Construction fee was covered by donations made by 1,103 individuals, 23 organizations, and 57 enterprises.
(Two-story house made out of light gauge steel, with a total floor area of 350㎡. Total construction fee 63 million yen
④Dormitory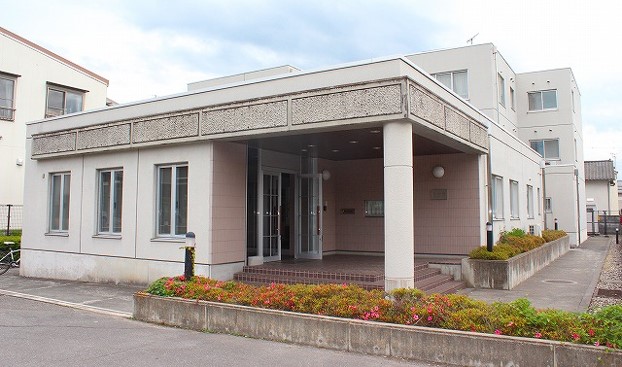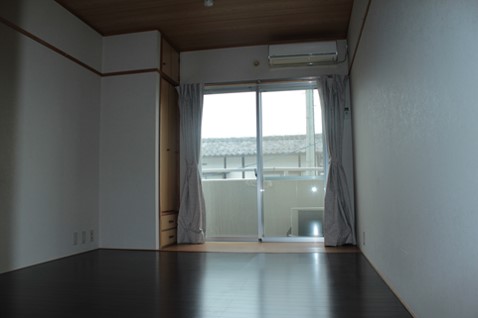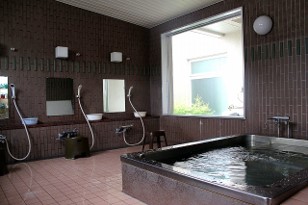 Opened in October 1, 2013, to develop youth players. Young players in the top team and high school students in the Youth team are living in the dorm.
⑤Coffee shop Yamaga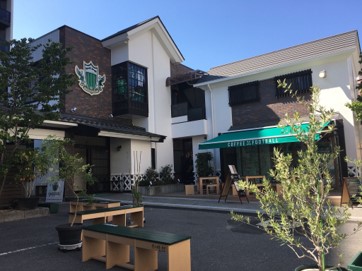 Matsumoto Yamaga FC was originally founded as Yamaga club by several regular customers of a coffee shop called Yamaga, that opened in 1965 in front of Matsumoto station. Yamaga is a combination of two words. Yama meaning the mountains in Japanese, added with a Japanese word yuuga, meaning elegant. Unfortunately, the coffee shop had to close its business in 1978 due to the redevelopment of the station. However, after 40 years, it reopened on February 25, 2017, and has become a community hub for fans and supporters, and to contribute to the development of sports culture.
CLUB